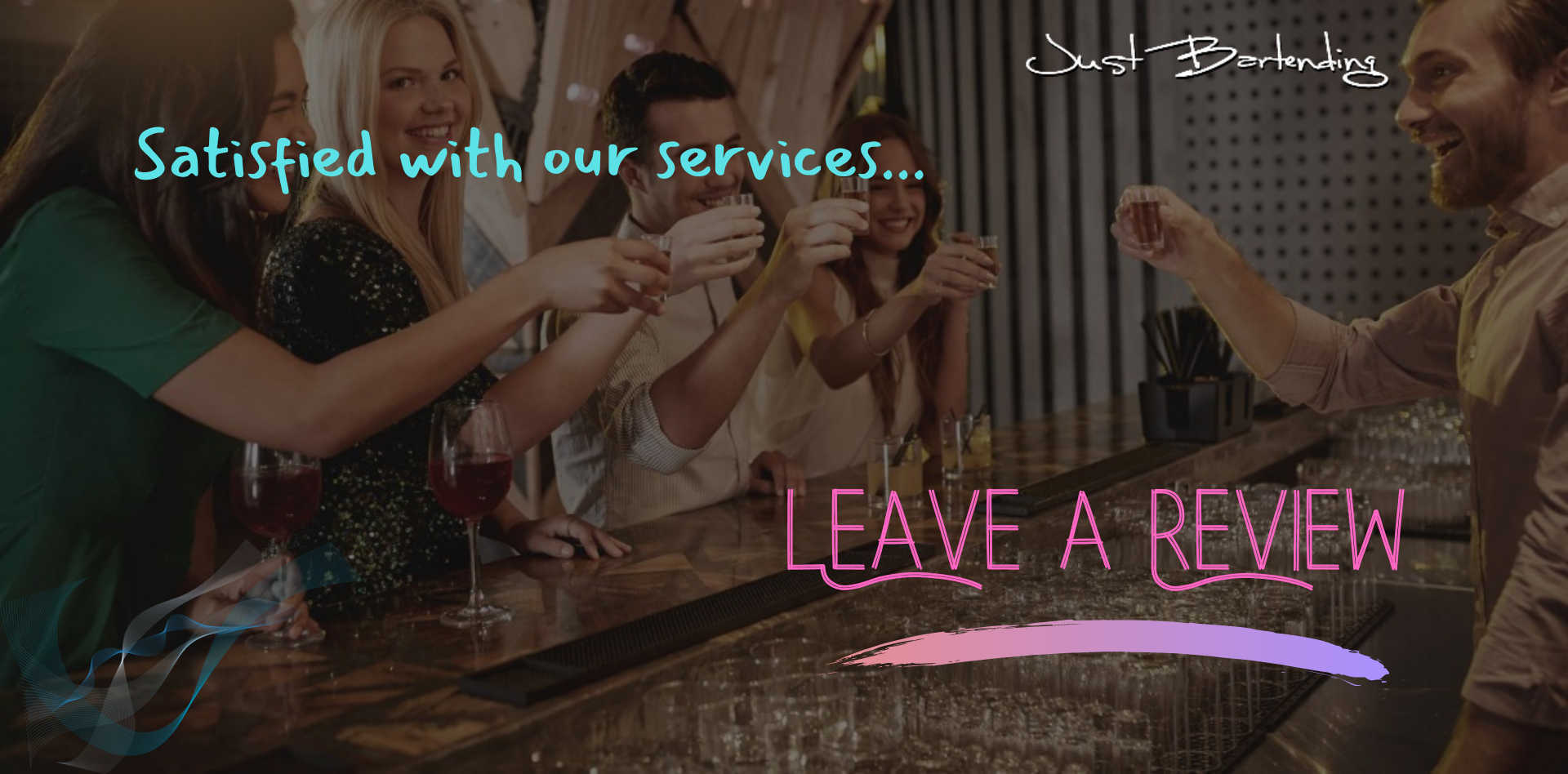 Satisfied with our Services?
Read what our clients have to say about Just Bartending's exceptional services. Discover firsthand experiences of our crafted cocktails, professional mixologists, and memorable events. Explore our reviews and testimonials to see how we've added sophistication and delight to countless special occasions.
If you have a google account, leave a google review at the very bottom.
Much appreciated!

Give us a review!
Reviews Library
Cannot say enough good things about the two bartenders who serviced us at our wedding on 8/5/23. They were exceptionally kind, even took the time to remember what each of our guests were drinking and had the items ready for them without hesitation. We served a specialty drink at our… Read more "Amazing Service for our Special Day!"
Kelsey Galbraith
Heritage Restored
Excellent
Based on 28 reviews
Michelle Davis
January 10, 2022.
David was excellent with communication and planning for our event and our bartender, Nicole was fabulous. She arrived early, was friendly and knowledgeable. Just Bartending definitely helped our team event to be a success and I highly recommend their service.
Anthony Snively
November 17, 2021.
David and his team are a joy to work with! Fast response times, affordable rates, and super friendly staff teams.
Tori May
September 30, 2021.
The Just Bartending crew was amazing and made our reception one to remember! From being available to answer our countless questions during planning to being flexible with how long the bar would be open on the day of, Just Bartending made sure we received the best service and that all our guests were satisfied as they celebrated!
David Ashline
September 23, 2021.
JustBartending provided professional and fun services for our wedding. The bartenders were efficient and interactive with the guests. They were set up and ready to go with plenty of time prior to the start of our celebration. Many of my guests had great things to say about their experience with the bartenders. Definitely would recommend.
Ryan Hook
September 19, 2021.
2 bartenders and 4 servers did awesome for our wedding. We were doing all the wedding planning and that day setup by ourselves. Just Bartending came in, and with very little direction, did a phenomenal job.
Meghan Grant
September 8, 2021.
I worked with David Love he was phenomenal. Such a nice guy, really on top of everything and helpful the whole way through. I was assigned two lovely ladies who put most bartenders I know to shame! They had drinks out fast, stayed professsional and did not let anything compromise the integrity of their service. I was complimented on our bartenders multiple times. I would use Just Bartending again and wish them a successful and bright future.
We used them for our wedding. David was very nice and very knowledgeable on drinks. Also flexible when I switched some around. Heather was our bartender and she was really fun and nice to work with.
Danielle Palmer
June 17, 2021.
From the start of our communication with Just Bartending, everything went smoothly. David was very attentive and always available to help and answer any questions. Set up was great, their timing was perfect and our shopping list was perfect. Our bartender Adam was loved and commented on by all our guests. We would absolutely recommend them!
Samantha Selders
June 5, 2021.
I had to hire a last minute bartender after my first one fell through. Not only was Just Bartending able to take me on at the last minute, but they were EXTREMELY responsive, kind, and organized throughout the process! Our bartender was extremely personable, kind, and did her job perfectly. I can't recommend Just Bartending enough!
Ellen Skosnick
April 19, 2021.
Just Bartending was the perfect choice for a venue that doesn't provide bar services. David was wonderful to work with via email. Everything went exactly as planned and was totally hassle free. Our bartenders Becky and Nicole were an awesome team. Once they arrived and were shown where to set up I didn't have to worry about anything else. They were fun with the guests, dancing behind the bar and knew our guests' drink orders before they even had to ask by the end of the night. They went the extra mile and cleaned up our bridal party lunch food and put it away for us before cocktail hour. Numerous guests complimented us on the bartending services. Can't say enough good things about them! Highly recommend this crew!